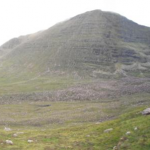 There are believed to be around 600 rock slides across the Scottish Highlands.  The most spectacular occurs on Beinn Alligin, where we were working in July 2012.  A great cleft (Eag Dubh or Black Cleft) cuts into the ridge south of the summit of Sgurr Mhor.
This cleft represents the scar left by the collapse of the rock face, the material of which runs out into the corrie of Toll a' Mhadaidh Mor for approximately 1.2 km. It occurred around 3750 years ago and is around 3.5 million cubic metres in volume. The debris fan relating to the slide is still relatively bare although in the less accessible gaps between the boulders there are quite a lot of small trees colonising, in contrast to the wet heath habitat on either side.
These failures occur because of a loss of confining pressure on glacially-steepened slopes after the glacial ice melts.  This releases stress in the bedrock, which can result in the opening of deep-seated fractures.  They can also be triggered by local earthquakes.  There is, however, some debate as to its origins, with some believing it to be a rock glacier.  The debate goes on. We see lots of rock slope failures on our travels around Scotland, but this is definitely the most spectacular.
Also of considerable interest was the aftermath of the massive fire which occurred on Liathach last year.  We were working on its lower slopes and noted some interesting patterns of re-colonisation, including the prominence in places of Dachtyloriza maculata (Heath Spotted Orchid) – very striking when seen against the charred soil!
We stayed at the Torridon Youth Hostel and ate at the Torridon Inn – both highly recommended…